Deep Heart was released July 6, 2018.
Credits:
All music and lyrics by Diane Marie Kloba except:
"Thunder" music by Jürgen Mertens and Diane Marie Kloba
All instruments and vocals by Diane Marie Kloba except:
Theodore Kloba: Bass guitar, bass synth on "Deep Heart", drum programming on "Rubber Soled".
Jürgen Mertens: All instruments on "Thunder".
Mixed by Andrew Diaz except:
"Thunder" and "He Lights Up" mixed by Theodore Kloba
Mastered by Bob Katz at Digital Domain
Four new tracks produced for an exclusive session on Mark Whitby's January 2017 show on Dandelion Radio: dandelionradio.com
Ghost In The Museum was  released January 26, 2016.
POST-PUNK, AVANT-POP, UNTAMED-ELECTRO SONG POEMS.
This album is a multi layered rich collection of songs using guitars, synthesizer and drums as the main back drop for poems with hidden dual meanings amidst haunting sonic atmosphere.
The album focuses on the spirit seemingly left behind in an artist's chosen medium, be it painting, sculpting or music. The musical elements extend down to the center of the earth while vocals sweep you way back up to the North pole. Layers of bass are enhanced with melody creating dimension and space with large picturesque landscapes of sound. Instruments come in and out giving depth and variety to these short song/poems.
Credits:
All instruments and voices by Diane Marie Kloba, except:
Darlene Wentland-Wiktor: Backing vocals on "A Thousand Pretty Strings", "I Am the Sweeper", "Only Summer Brings", "Rescued" and "Waters of Amrita"
Ted Kloba: Bass guitar, baritone guitar, lead guitar on "A Thousand Pretty Strings", piano on "Ancient Art", fiddle on "I Am the Sweeper", drum editing on "Foolosopher Part 2", backing vocals on "A Thousand Pretty Strings" and "Waters of Amrita"
Kevin Wiktor: Drums on "A Thousand Pretty Strings", "Ancient Art" and "Rescued", percussion on "I Am the Sweeper", backing vocals on "A Thousand Pretty Strings" and "Rescued"
"Foolosopher Part 2" contains portions of "80BPM Drum Grooves – Fat!" by George Lindsay, licensed under Creative Commons-Atribution 3.0. bit.ly/gl80bpm
Mixed by Ryan Albrecht
Mastered by Bob Katz
These tracks were originally produced for Mark Whitby's July 2014 show on Dandelion Radio.
Diane Marie Kloba's  fifth solo album titled It Is All an Illusion. It is available worldwide now.The recording continues the sonic exploration of her work and with some return to alternative rock styles, it also introduces a broader use of synthesizer to set the mood.
This album has a song that made number 14 on the Festive Fifty for 2013 on Dandelion Radio and received good reviews. (see review section)
The song themes are a development of the more haunting songs on I Am an Unknown Artist. The focus is on the struggle to rise above the effects of a sudden, unexpected loss. Still, before its conclusion, Diane Marie Kloba's trademark hopefulness shines through, along with her fascination with weather and the heavens.
Please check the review or about section if you wish to know more about her music
I Am an Unknown Artist is Diane Marie Kloba's fourth album, released March 8, 2011.
Its musical foundation is built of Diane's own guitars, vocals and acoustic percussion with occasional contributions from a small group of collaborators. The voices on I Am an Unknown Artist are always emotive, ranging from lullaby-sweet ("To Live Up to It") through urgent hollering ("Diane Has Words") to haunted ("It Rained").
The lyrics grow from self-reflection tempered with a dose of humor and of wordplay. The album opens with a love song ("To Live Up To It") but thoughts soon turn to the nature of creativity, motivation, persistence and the passage of time. The hypnotic "That's How It Goes" finds the singer stargazing and draws parallels between light pollution obscuring the night sky and human isolation. A wry raggedness shows up on "It Was Me", a lumbering and clamorous reworking of the "it's not you—it's me" cliché. Surf guitar and spy music themes are reduced to their bare essentials on the rocker "No Standing Still", telling of a soul on the mend pushing forward.
There are some departures from earlier work: There is a more intimate treatment of the vocals and an introduction of some orchestral textures. To help get this done, Kloba enlisted mix engineer Ryan Albrecht, better known in classical circles, and Grammy-winning perfectionist mastering engineer Bob Katz to add final polish.
Despite the newfound textures and polish, I Am an Unknown Artist still emphasizes the economy employed in Kloba's prior recordings. Nothing is wasted; what is present is essential and empty space is given its due respect.
For You, Stranger was released on august 12, 2008.
It marked the start of Diane Marie Kloba's most overtly experimental effort, intentionally shunning pop conceits, but still keeping the idea of the song as a short and self contained work.
Messages from the Ionosphere was released May 31, 2005 on Striped Shirt Records.
Messages from the Ionosphere featured some of the bigger guitar sounds that Diane favored before I Kid You Not; there are also a couple acoustic numbers singer-songwriter tunes and one piece of "beat poetry" with just flute, words, and percussion. Of course there are songs about star watching, appreciating joys of life and dreams, both the day and night varieties. With her poetry sometimes comes a bit of silliness, finding humor in seriousness.
I Kid You Not was released on July 1, 2003.
It was a lo-fi experiment which blended punk attitude, some sonic experimentation, subtle humor, and even some forays into hip-hop.  It was voted the number 10 best album in the Village Voice "Pazz and Jop" poll.
Diane Marie Kloba's first solo effort, This Is Worth Something was a DIY effort produced under the stage name TAFKAD in 2001 and sold at shows. The CD is out of print, but the tracks are now available for free listening on soundcloud: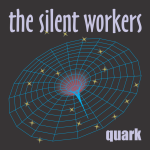 In 1997, as a member of The Silent Workers, Diane Marie Kloba contributed vocals, guitars and songwriting to their sole full length album release, Quark.  Although the band has been on hiatus for several years, all the band members have helped out in sessions for her solo albums and still get together to jam a few times a year.